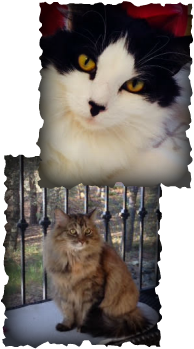 Sasha and Nikki are looking for that special someone to give them a loving home where they can feel safe and secure.

These beautiful girls were found abandoned together and had to fend for themselves in dire circumstances until rescued by Community Cats. They have been with a foster and groomed and pampered but now it is time for them to find their furrever home.

Sasha is the beautiful black and white long haired love and Nikki is the more adventurous long haired tortoiseshell girl.

Both girls are under the age of 3 and are spayed and tested. They had shots when they were younger but could receive boosters if their new owners were so inclined.

For more information call Community Cats/Catty Shack Rescue at 928-778-6951. We are a 501(c)(3) non profit rescuing cats from the street since 2011.